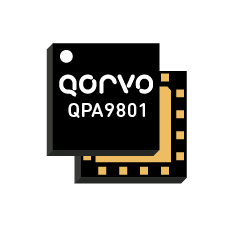 Qorvo
QPA9801 – Linear Amplifier
Qorvo's QPA9801 is a balanced amplifier module with embedded hybrid couplers to convert to single ended input and output ports.
The module has an enable pin to allow for shutting down of the amplifier. The module requires minimal external components which are VCC choke inductors, decoupling caps and resistors for bias control.
The linear driver amplifier is targeted for use in wireless infrastructure where high linearity, medium power and high integration is required. The balanced amplifier configuration provides very good input and output VSWR and is especially ideal as the output stage in a macrocell transceiver board that connects to the high power amplifier (HPA) board through a long cable or microstrip trace.
Typical Applications
Defense Communications
Repeaters / DAS
TDD / FDD Macro BTS Transceivers
Product Features
1805 – 2400 MHz
Balanced Amplifier with integrated 3 dB hybrids
Internally Matched 50 Ω Input / Output
Shutdown Mode with 1.8V logic control
20 dB Gain
+41.6 dBm OIP3
+26.4 dBm P1dB
Good gain flatness across Bands 1, 2, 3, 4, 10, 23, 30
See the QPA9801 datasheet for further information –