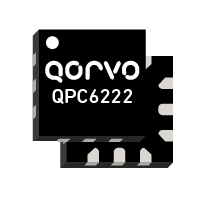 Qorvo
QPC6222 – Switch
700 – 2700 MHz General Purpose DPDT Transfer Switch
The QPC6222 is a dual-pole double-throw transfer switch designed for general purpose switching applications where RF port transfer (port swapping) control is needed. The low insertion loss along with excellent linearity performance makes the QPC6222 ideal for multi-mode GSM, EDGE, UMTS, and LTE applications.
The RF ports can be directly connected in 50 ohm systems and control logic is compatible with +1.3 V to +2.7 V systems. The supply voltage is intended for connection to +2.8 V systems but the device is operable from +2.4 V to +3.5 V.
The standard 12-pin QFN package and compact 2.0 mm x 2.0 mm size offers designers a compact, easy-to-use, switch component for quick integration into multimode, multi-band systems.
Typical Applications
Data Cards
IoT
Telemetry
Automotive
Cellular Modems and USB Devices
Mult-Mode WCDMA, LTE Applications
Click here for the QPC6222 Data Sheet