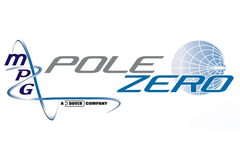 Pole/Zero
MN-X-X-X-T01, 30–520MHz, 1W, Tunable Bandpass Filter Series
The POLE/ZERO® "MN" MINI-POLE® is a series of digitally tunable bandpass filters with several standard designs in various tunable ranges to support a myriad of applications.
The MINI-POLE® is optimized for size, RF power handling, low distortion, and exceptional selectivity. The MINI-POLE® comes in a compact 42  in DIP package 0.558 x 1.305 x 2.250 inches (14.17 x 33.15 x 57.15 mm.)
The MINI-POLE® uses a high factor pin diode switched capacitor array with a customized high voltage driver to accurately and reliably tune to pre-defined frequencies. The MINI-POLE® is primarily used in applications where adjacent radio channels may cause interference on the acquisition channel. The MINI-POLE® can be  used to reduce or eliminate the effects of these interfering signals but it is flexible enough to be used in a multitude of applications.
The MINI-POLE® uses an 8-bit wide proprietary parallel or serial interface to tune to a maximum of 251 tune positions per band. The MINI-POLE® will typically tune in less than 10 μs. The MINI-POLE® requires only two external power supplies, +5V and +100V.
All MINI-POLE® filters are fully aligned and tested by POLE/ZERO® for convenience and ease of use. The MINI-POLE® covers six frequency ranges and custom configurations and designs are available upon request.
Typical Applications
Applications where small size, high power, and high performance are required
Military Radios
Military Radar
SATCOM
Test and Measurement Equipment
Industrial and Medical Equipment
Features
Up to +30 dBm CW continuous in-band power handling
Up to +37 dBm CW continuous out-of-band power handling
+40 dBm IIP3 typical
10 μs typical tune time
Up to 70 dB typical ultimate selectivity at (2 x 𝑓𝑐)
Datasheet